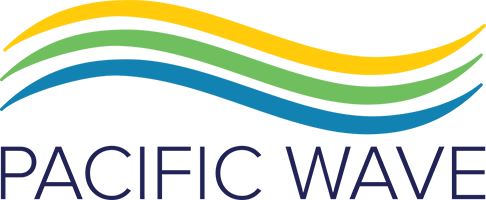 Welcome to Pacific Wave
Pacific Wave is a wide-area advanced networking facility that is designed to provide research and education networks throughout the Pacific Rim and the world with access to separate but interrelated state-of-the-art peering and exchange, 'Science DMZ', Software Defined Exchange (SDX) and Software Defined Networking (SDN) capabilities. Pacific Wave includes the following services on their own dedicated but interconnected wavelengths:
A distributed, fully open, peering and exchange fabric with access points on a 100g backbone that spans Seattle, Sunnyvale and Los Angeles to which nearly all Pacific Rim R&E networks connect and which is in turn interconnected with all USA R&E backbones including Internet2 and ESnet (each with multiple 100g connections) as well as the major cloud providers and international ISPs;
A wide-area Research DMZ platform with a dedicated 100g backbone among Los Angeles, Sunnyvale and Seattle and also access in Tokyo (at WIDE/T-REX and Tata pops), Denver, Albuquerque, El Paso and Chicago (at StarLight) via shared 100g wavelengths
A dedicated SDX capability with its own 10g wavelength providing access at Pacific Wave's Seattle, Sunnyvale and Los Angeles nodes and interconnecting with StarLight's SDX testbeds in Chicago
A dedicated SDN testbed capability with its own 10g wavelength with access at Pacific Wave's Seattle, Sunnyvale and Los Angeles nodes
Pacific Wave is a joint project of CENIC, the Corporation for Education Network Initiatives in California, and the Pacific Northwest Gigapop (PNWGP), and is operated in collaboration with the University of Southern California and the University of Washington. It is the official USA National Science Foundation funded interconnection and peering facility and SDX exchange for Pacific Rim networks.
---

Pacific Research Platform
From biomedical data to particle physics, today nearly all research and data analysis involves remote collaboration. In order to work effectively and efficiently on multi-institutional projects, researchers depend heavily on high-speed access to large datasets and computing resources. The PRP integrates the Science DMZ architecture into a high-capacity regional "freeway system," making it possible for large amounts of scientific data to be moved between scientists' labs and their collaborators' sites, supercomputer centers or data repositories, even in the cloud. Click here for more on the PRP >
Pacific Wave is a project of CENIC & Pacific Northwest Gigapop.
Upcoming events